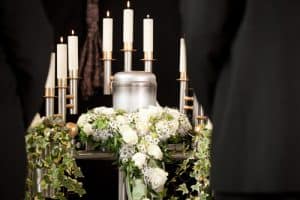 A full service cremation includes a viewing, a funeral service and cremation services.  
A viewing (also called a "wake") is often hosted to allow attendees to view the deceased and pay their respects to the family. Viewing typically take place the day before the funeral service and are most often held in the funeral home chapel or a church. 
A funeral service follows the viewing (usually the next day) and is held at a funeral home, church, or other event space. Traditional funerals include elements such as prayers, eulogies, readings, and music. Thornton's will gladly assist you in developing an order of service befitting your loved one.
Once the deceased is cremated, the ashes are placed in an urn which can be buried below or above ground, scattered, or kept by the family. Just as with coffins, there are several urn options available. Thornton's is happy to assist you in making your selection.
Please visit our FAQ page for answers for commonly asked questions regarding cremation.