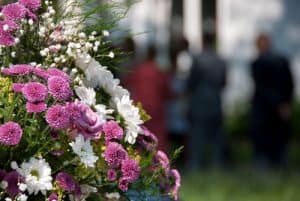 A traditional full service funeral includes a viewing, a funeral ceremony, and burial at the gravesite. 
A viewing (also called a "wake") is often hosted to allow attendees to view the deceased and pay their respects to the family. Viewing typically take place the day before the funeral service and are most often held in the funeral home chapel or a church. 
A funeral service follows the viewing (usually the next day) and is held at a funeral home, church, or other event space. Traditional funerals include elements such as prayers, eulogies, readings, and music. Thornton's will gladly assist you in developing an order of service befitting your loved one.
At the conclusion of the funeral service, the body is transported by procession to the cemetery/burial location for the committal service where the deceased is interred in the grave. Thornton's can help arrange special additions to the committal service such as a dove or balloon release.
There may also be a funeral reception or repast for family and friends of the deceased to come together after the burial. Many choose to host this post-service gathering at a reception or fellowship hall and provide refreshments. While it is often organized by friends of the bereaved family, Thornton's can help you in making these arrangements as well.